Cancer Rehab Austin
Cancer Rehab Austin
1517 West Koenig Lane, Building A
Austin, Texas 78756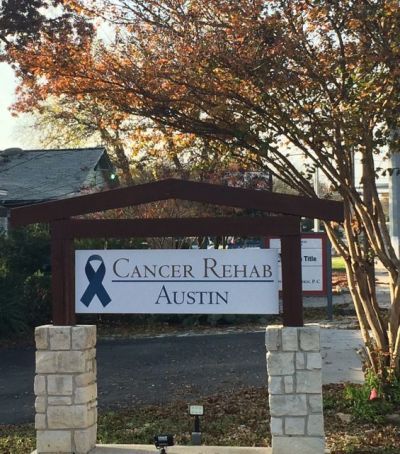 "Helping People Move Beyond Cancer"
The mission of Cancer Rehab Austin (CRA) is to provide a multidisciplinary approach to meet the needs of individuals who are actively undergoing cancer treatment or have had a history of cancer.
I am excited to be one of CRA's specialized practitioners who will collaborate with one another to provide clients with a seamless and integrative plan of care. Oncology physical therapy, oncology acupuncture, nutrition and yoga, along with oncology massage therapy, will be offered at this clinic that is located at 1517 West Koenig, Bldg A, Austin 78756 (just east of Arroyo Seco and west of Thunderbird Coffee/Tap Room).
A little information about me:
Since 2010, I have been working with people in all stages of cancer and those people who have medically complex health issues, and can offer safe, relaxing and beneficial massage sessions that are tailored to meet each client's needs. I am dedicated to provide safe, effective, comfort-oriented massage sessions for all of my clients. Research is starting to show that oncology massage may reduce nausea, pain, fatigue and stress for cancer survivors as well as improve one's energy, sense of well-being and sleep.
In addition, I am also a certified manual lymph drainage (MLD) therapist and lymphedema therapist (Foeldi/Vodder method) and have worked with people who find that this type of relaxing treatment helps those who have allergies, are pre-and-post surgery, are interested in detoxification, experience lymphedema or are at risk for lymphedema.
MLD is a gentle, non-invasive bodywork technique that stimulates the flow of lymph fluid. It is often used pre-and-post cosmetic surgery and as a way to assist with lymphedema. MLD has been shown to be very effective as being part of a treatment plan to help people manage their lymphedema.
In addition, MLD is very effective for many concerns including faster recovery from injury, reduction of swelling and discomfort from surgery, radiation therapy, and assists to effect strengthened resistance to illness.
MLD is a gentle, non-invasive bodywork technique that stimulates the flow of lymph fluid. The slow, rhythmic strokes gently stretch the skin and connective tissue creating a gentle pumping action that increases lymphatic flow.
I am offering my massage therapy/lymphatic sessions at CRA on Wednesdays, from 10 am - 7 pm, by appointments only.
For more details about Cancer Rehab Austin, please go to http://www.cancerrehabaustin.com